Chapter 4 – Transition
Making the transition to a peace-embracing nation
---
15.    Transitioning to a peace-embracing nation
15.01 STARTING THE TRANSITION
A Peace Embracing Nation will need to prepare for such a transition by either having a new election in democratic countries or making decisions in any other form of government or leadership. Peace-embracing nations welcome any type of political system. Knowledgeable representatives of the population should collaborate with the government.
15.02 RESOLING MILITARY ALLIANCES
Peace-embracing counties resolve their military alliances or leave such an alliance. If this is not possible, an international court needs to assess the case and the motive for this termination.
15.03 REFRAINING FROM WEAPON EXPORT
Weapons will no longer be exported. To ensure that there is no aggression from another country, borders need to be accepted, if necessary, with the help of an international border treaty and by respecting the desire that ethnic groups which have been forcefully integrated into a country are released from such a country.
15.04 ENDING COLONIALISM
To prevent conflicts, the more powerful nations need to end any form or shape of colonialism, including so called neo-colonialism, where the power and influence of a nation dominate the other nation by requesting certain favors such as accepting their currency, adopting their education or political systems or embracing specific religious systems..
15.05 EMBRACING DIVERSITY
Peace Embracing Nations as described her can be managed by any political system. Since diversity is one of nature's greatest gifts, we need to respect the difference, even embrace difference. Reaching out to nations that have been promoted as the enemy or the bad guys, simply because they are different is another good start to make peace – as those often have been a victim of war instigation. Embracing difference gives humanity a great opportunity to learn from different organizational forms.
15.06  ORGANIZATIONAL DEVELOPMENT
The human ability to organize extremely large groups of people is one of the things that make us stand out but is also a risk for unhealthy dominance. With a fast-growing population and an ever wider spread diversity organizational development gets ever more demanding. We need to learn from each other to be able to sustain growth and speed in development. The day where we inhabit other worlds will come soon enough.
16.     Maintaining Peace
16.01 MAINTAINING PEACE
Generally every person in a society must be a peace-keeper. Those who do not care and have no political opinion or don't know enough about their governmental structure should be respected as well. However, in democratic systems they should be able to prove that they fully understand the impact of their vote and what the vote is about.
16.02 EDUCATION SYSTEM
In order to fully comprehend the complexity of war and peace a key aspect is to educate the young generation in what peace or war means, how war and peace is created and supported and how war can be prevented. This education needs to part of the entire learning experience from the very beginning to an age of 50.
16.03 PEACE-KEEPER ORGANIZATION
A peace embracing nation will organize a group with the sole function of managing all peace-keeping activities and defense mechanisms in the name of its population.
16.04 EARLY WARNING MECHANISMS
Peace-Keeper organizations have several risks to assess:
a) Rise of propaganda that is concerning other nations or from other nations about your own country.
b) Signs of rising power and hyper organization including people in power with a high risk of psychological disorders.
c) Increase of rapidly distributed conspiracy theories.
d) Rise in military expenditures, building of alliances, cross country weapon business
16.05 POLITICAL CHANGE
A peace-embracing nation that changes course and ignores the principles of making and maintain peace will simply be demoted as peace-embracing nation. However, the population of such a country can sue their government of breaching the rules under which they have gained power at an international court, organized by all peace embracing nations. The lawsuit of 1945 at the Nuernberger Court shall be an example. Instead of expelling a whole nation, an international court needs to work with the respective government. If the country leaders decide to take a different path, no other country has the right to intervene.
16.06 PUTSCH HANDLING
If a government of a nation that is known to be peace embracing is overthrown by another force during a putsch and acts against its population in whatever way, the nation will no longer be considered peace-embracing and may be disconnected from peace embracing nations, politically, economically or otherwise.
We make the content available to read for free. We can only achieve peace and progress when we all understand how war is created and how we can prevent it.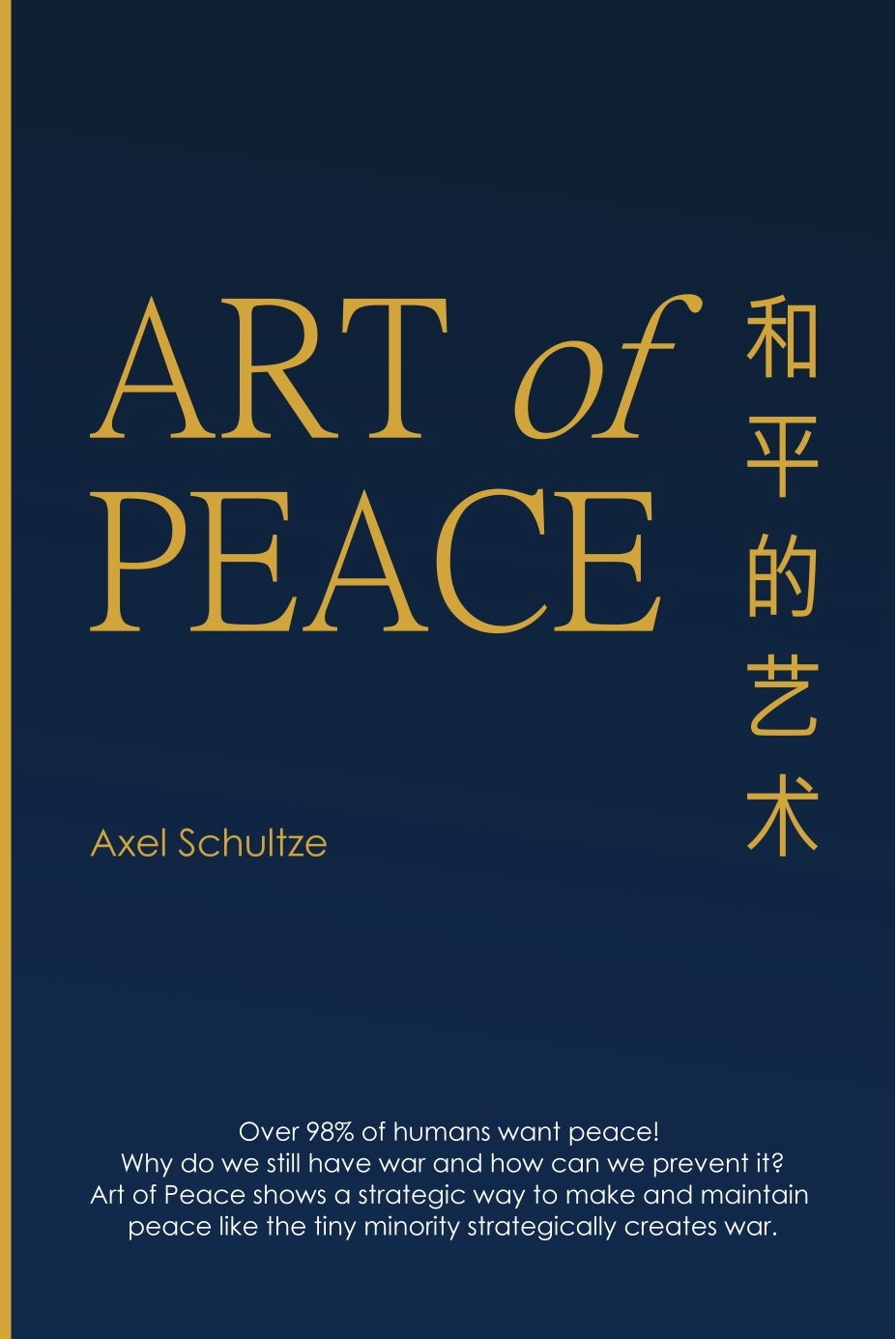 Humanity has a great chance to make peace and drive a sustainable development across the entire world. However, nature has given us a minority of people who see the world very differently. The different point of view of the said minority is grounded in the desire to control the entire world and everybody living in that world, obeying their rules. At the same time, the majority is seeking peace, advancement and prosperity based on individual desires and the belief that diversity and multiple different ways of organizing ourselves bring us further. As long as the fundamentally different groups, in general, develop their culture without enforcing others to follow them, we can peacefully co-exist.
Teaching our children how war is constructed, how a minority is able to manipulate a vast majority, and teaching them a purpose for peace, will make it ever harder to create war. And one day it will be virtually impossible.
Chapter 4 – Transition
FINDING A NEW FORM OF ORGANIZATION WHERE HUMANITY CAN DEVELOP THEIR FULL POTENTIAL RELATED TO SELF-ACTUATION, PROSPERITY, AND FREEDOM IN THEIR RESPECTIVE OWN MIND.