10.     Stop arming others
The global multi-trillion-dollar arms business is a crime of supporting man slotter. Every society is responsible for that business by requesting their respective government to discontinue conducting such business.
10.01 DON'T EMPOWER OTHERS FOR WAR
Most wars would have never happened if the aggressor had not been empowered with weapons they could never build themselves.
10.02 DECISION POWER TO STOP IT.
Governments conduct the arms business under the pressure of alliances or the need to finance the next generation of weapons. In democratic countries, those governments are elected by their population, and the population should be able to have a saying in how weapon updates should be financed. In other political systems, the government is solely responsible for refraining from the arms business.
People working in the arms industry have an extra responsibility to ensure that what they develop, produce, and sell is exclusively for the country's defense. As such, the population can stop that slotter that costs millions of lives yearly and delays the development of those usually behind countries for no other than financial reasons.
10.03 COLLABORATING WITH ARMS TRADING NATIONS.
As long as a country is selling or supporting arms dealers to sell their weapons, ammunition, or parts that can be used to build weapons, that country cannot be considered a peace-embracing country. It is up to each peace-embracing nation if t still conducts business with such a country. The transparency to do so makes it a less trustful country. There are grey zones, and only weaker nations may be forced to make such trade. We only hope one day this is ended completely without enforcing it.
11.            No Foreign Military Involvement
In most countries around the world, the faster-developed nations compete with each other for natural resource extraction, influence, and military bases in other, weaker nations.
Africa, Asia, Eastern Europe and Latin America are the victims of that effort. Many NGOs warn that this will cause significant damage to the environment and the dignity of its population. It will prolong the path for humanity as a whole to reach its maximum potential.
11.01 ENGAGING IN ANY OTHER NATION.
Unless explicitly asked for help, no peace-embracing country will engage in any other country, peaceful or not peaceful, no matter the circumstances.
11.02 NATIONAL FREEDOM
No matter how old or young, every country must have the right and the freedom to evolve and create their own values or no values, laws or no laws, ethics or no ethics in the way they decide for themselves.
11.03 HUMAN RIGHTS
As long as human rights are decided by some nations and trying to enforce on other nations, those rights are void. Human rights shall only be applicable and bound to those nations that agree on those rights. A peace-embracing nation will never enforce its own understanding of human rights on other countries. Human development is a time axis, and the most advanced nations needed their own experience from several hundred years ago to be where they are today.
11.04 NO INTERVENTION DEVELOPMENT
No peaceful nation will intervein or even dictate how other nations get an education, what political dogma they should follow, the values or ethics they should adopt, or how they should evolve. Any peace-embracing nation is obliged to respect other nations in their development.
11.05 NO MILITARY SUPPORT
It must be considered an act of supporting war when a country supports another country by providing military aid, support, and advice in any direct or indirect form, including establishing any kind of military base. Peace-embracing nations shall never establish or maintain a military base in any foreign nation or unchartered waters. A foreign military base includes a high risk of political or military engagement outside their country.
11.06 SECRET SERVICES.
Secret service is considered another unacceptable foreign engagement. Most secret services are part of a well-known national security or otherwise named organization. As such, they do not appear to conduct activities in secrecy in other countries. Yet, they do, and there or in their own country, perform activities such as espionage, destabilization, organizing putsches, etc. While conducting those services in complete secrecy – once identified, that country can no longer be considered a peace-embracing country. People employed by a secret service organization are considered equally unpeaceful and criminal as the country they work for.
11.07 NO RIGHTS ON FOREIGN NATURAL RESOURCES
Peace-embracing nations refrain from exploiting the natural resources of foreign countries. By doing so, they will consciously put themselves at a competitive disadvantage relative to nations that do not respect those countries. However, those peace-embracing nations have the power to exclude those countries from participating in their economic network.
11.08 FAIR TRADE FOR FOREIGN NATURAL RESOURCES
Countries that acquire goods or services shall pay fair value for their purchases. While this may be hard to determine, they should act in that spirit.
11.09 DECISION TO HELP
Any peaceful nation should decide to help with a memorandum on how to help and the condition this help is provided with. That decision should be publicly accessible by anybody. This shall prevent dubious support and trade mechanisms, where those weaker nations are ruthlessly forced into terms that have the potential for war.
12.   Ethnic Independence
12.01 NO HUMAN OWNERSHIP
A peaceful nation does not claim "ownership" over the people living within their nation's boundaries. Citizens who decide to leave the country, they have been born into should not be hindered or punished for leaving.
12.02 OPENING UP LAND TO ETHNIC DIFFERENT GROUPS THAT HAD BEEN FORCED TO LIVE IN A COUNTRY
A significant contribution to making peace is to stop forcing ethnic groups that had been forcefully merged with a country to unmerge. Make peace by giving those who fight for independence the freedom to be independent.
12.03 NO RIGHT FOR REPARATION
The Act of building ethnic independence should not get loaded with any kind of reparation requests. A contract between those groups should be clean and clear with no substance to create another aggression in the future, no matter what circumstances the past has created.
12.04 TWO THIRD MAJORITY ROLE
It is suggested that people living in a group that should be separated make a vote where 67% of the group votes are for WANTING THE SEPARATION. Those who vote against the separation shall be able to maintain their original citizenship and still be allowed to stay in the separated country.
13.   Welcoming Economic Dependency
Possibly the most significant advancement in the history of homo sapiens was its ability to specialize. Just about 12,000 years ago, when discovering the power of farming, we were able to specialize in doing other things than just finding or hunting for food. The developed world reached a point where farming is roughly 3%, and 97% is everything else, including housing, machines, mobility, education, communication, entertainment, etc. This dependency allowed us to distribute ingenuity across the planet and get to a product variety we would never be able to build on our own.
13.01 SUPPORTING DEPENDENCY
Cross dependency between nations is a great supporter of peace. It is compensating tension when one is dependent on several others. A more extensive variety of products and services from different cultures removes the dependency of one party and stimulates healthy competition.
13.02 SUPPORTING DIVERSITY
Diversity is one of nature's most significant powers, It provides different experiences that allow different ways of doing things and a much more comprehensive selection of options. It also allows more specialization in different traits and provides life and nature with a richer experience.
13.03 BALANCE DEPENDENCY WITH AUTONOMY
To compensate for the uncomfortable feeling of being dependent on others, it may make sense to ensure autonomy for the base functions of survival and existence. Today's base for our existence includes food and water, shelter, mobility, and energy. Energy being a new value in our needs pyramid, we cannot make ourselves dependent on energy from others.
14.    Empowering Independence
Since the rise of homo sapiens, we grouped in order to survive. And we will need to keep doing so to survive. Yet our greatest advances happened by going independent paths and experimenting with independent organizational structures. The duality between independence and dependency bares an enormous power for future development.
14.01 SHELTER FOOD AND ENERGY
 A sovereign nation should be able to survive on its own if needed. Therefore, a nation should invest in making sure there is enough space to live for all their citizens, there is enough space to produce their food and there are enough renewable energy sources to be self-sufficient.
14.02 ORGANIZATIONAL VARIETY
Make the right to build new and different organizational forms. This would help find further improvements in organizing ourselves and give some people the freedom to evolve differently.
14.03 MAKING SPACE FOR INDEPENDENCE
Allowing humans to live independently, nations with lots of space should return some of that space to help independent to live without governmental influence. The only obligation those who want to live there have is to not claim any of that space for themselves.
We make the content available to read for free. We can only achieve peace and progress when we all understand how war is created and how we can prevent it.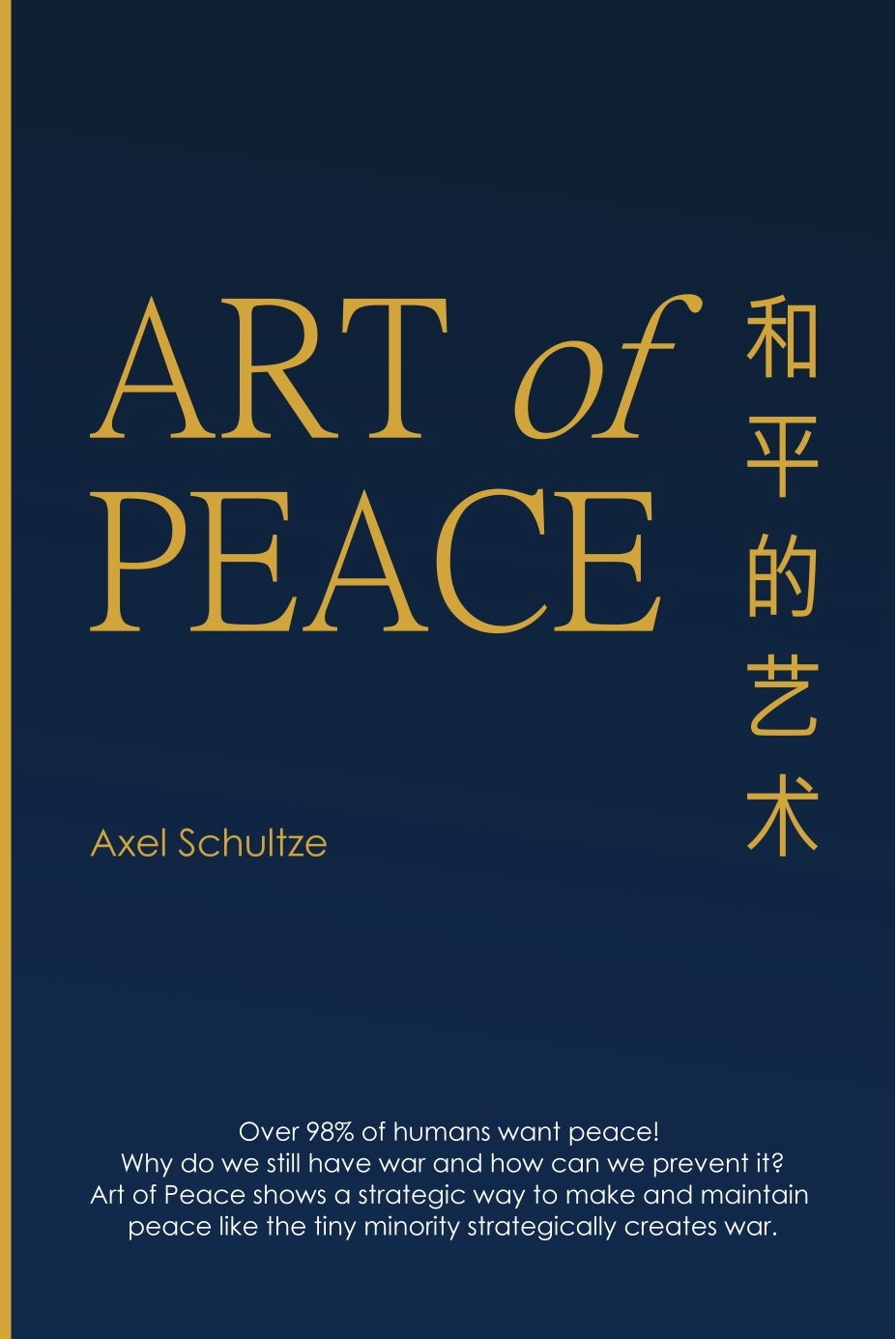 FINDING A NEW FORM OF ORGANIZATION WHERE HUMANITY CAN DEVELOP THEIR FULL POTENTIAL RELATED TO SELF-ACTUATION, PROSPERITY, AND FREEDOM IN THEIR RESPECTIVE OWN MIND.